How to Protect Your Home Year Round with Alu-Rex Gutter Guard
Over time, leaves and debris can start to clog your eavestrough, which can then turn into your eavestrough overflowing. Eventually, this can cause damage to the exterior and interior of your home, such as your foundation. Installing Alu-Rex is the perfect solution for year-round protection.
What is Alu-Rex?
If you're unsure what Alu-Rex is, it's an eavestrough protection system that's installed with existing or new eavestrough. It helps stop leaves and other debris from clogging the eavestrough. It's also available in 3 styles: T-Rex Continuous Hanger, DoublePro Microfiltration Continuous Hanger, and Gutter Clean.

How can it benefit your home in the winter?
Generally, during the winter months, the ice and snow build-up sits inside the eavestrough, but with an Alu-Rex system installed, it sits on top of the eavestrough, allowing it to melt and drain properly. Alu-Rex also protects eavestrough from damage during the freeze/thaw cycle, as well as from the weight of the snow.
Not sure what product is right for you?
---
Alu-Rex T-Rex Continuous Hanger system makes the eavestrough stronger, as it's reinforced from end-to-end with self-sealing screws that stay in place. These screws also help reduce water infiltration into the wooden fascia. T-Rex can also withstand the weight of snow, ice, and ladders.

DoublePro Microfiltration Continuous Hanger system features a double membrane with offset holes for water to drain freely while still blocking pine needles and leaves without getting clogged. The two membranes create a suction that makes it possible to drain three times more water than before because the inner membrane draws water through the wider holes.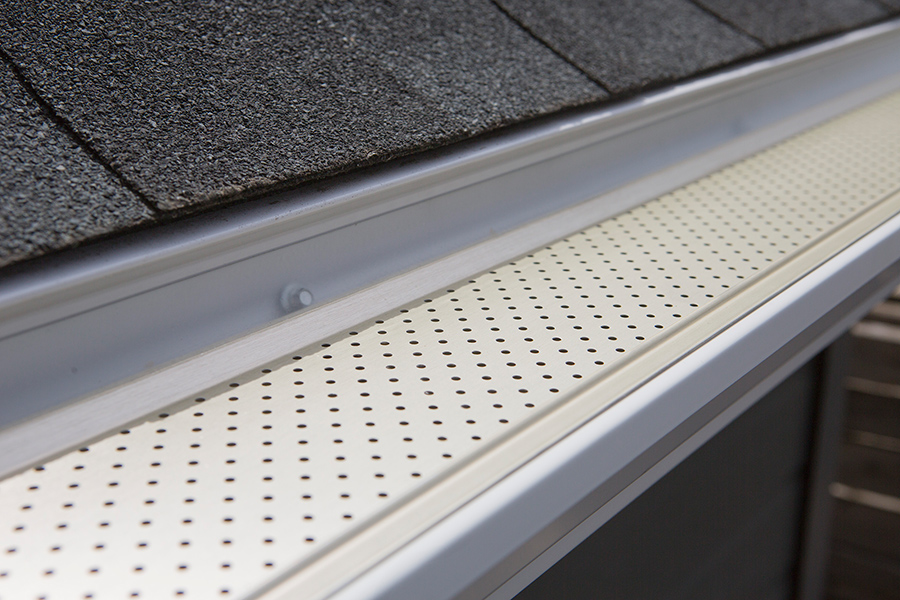 Alu-Rex Gutter Clean system sits on top of the existing eavestrough and features a flex seal technology on the back of the eavestrough to create a watertight seal that's resistant to UV rays and changes in temperature. Gutter Clean is fastened to the front of the eavestrough to create more protection against leave and debris.
Start protecting your eavestrough and your home today! Find Alu-Rex products on our website or at any 5 locations across Ontario.